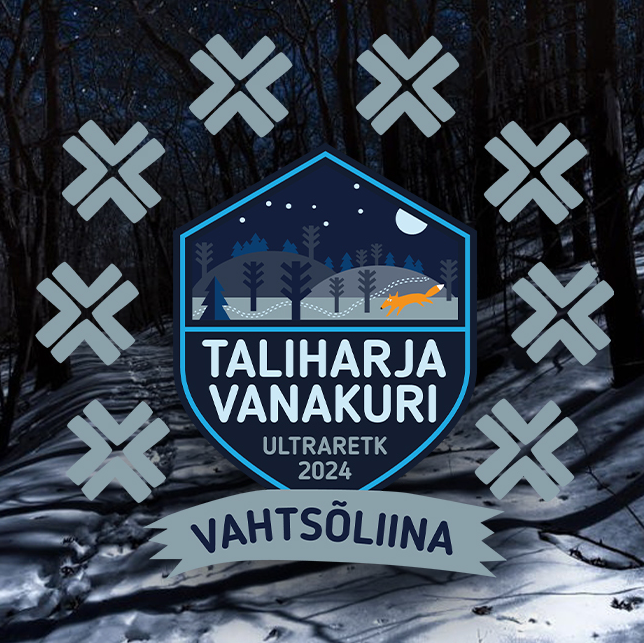 Taliharja Vanakuri
TALIHARJA VANAKURI on 101 km pikkune talvine vastupidavus-retk, mis viib osalejad pikale teekonnale läbi hõredalt asustatud kõnnumaa ja kus iga osaleja vastutab enda hakkama saamise eest ise. Lisaks 101km põhirajale on võimalik osaleda lühemal 51km "Pehmo" rajal või pikendada retke 24km võrra "Sõgeda Sõõriga".
Taliharja Vanakuri Ultra is a 101km race that can be done either on foot, skis or bike. A 51km "soft/pehmo" option is also available (first half of main course) as is a 25km extension that brings the total to 126km.
Registreeringu kinnitus saabub osaleja siis, kui esitatud registreeringutaotlus on korraldaja poolt heaks kiidetud! Palume osavõtutasu maksta alles pärast kinnituse saamist!
Registration confirmation will be sent to participant once race managmenet has approved the registration! Please pay the race fee only after confirmation!
MAJUTUS & TOITLUSTUS!
Tegemist on legendaarse ja paljude jaoks nostalgilise paigaga, kus käidud laagrites ja muidu mõnusat nädalavahetust veetmas. Seoses Taliharjaga on broneeritud kogu keskus. Majutuse broneerimine on eelkõige osalejatele, aga ka pereliikmetele ja toimub registreerimisvormi kaudu.
NB! Majutust müüakse ainult paketina reedest pühapäevani, mis sisaldab ka kuni kuute toidukorda! Toidud on kodused ja maistvad!
Majutuspakette on erinevat sorti (kaks ööd R-P, kuni 6 toidukorda):
1) spartalikud naridega laagritoad - SOODNE - 65 eurot/inimene
2) privaatsemad ja väiksemad toad - KESKMINE - 75 eurot/inimene
3) moodsamad hotellitoad - KALLIM - 85 eurot/inimene.
Majutuse broneerinud saavad registreerimise kinnitamise kirjas lingi tabelile, mille kaudu saab endale konkreetses toas voodi reserveerida! Registreerimisel valige lihtsalt inimeste arv. Tube ja voodeid saavad reserveerida vaid maksnud isikud, kõik teised korraldaja kustutab.
ENGLISH INFO OF ACCOMMODATION & FOOD!
The center of the 2024 race is the Kurgjärve sports base.
http://nommesk.ee/Kurgjarve_sportibaas_702
It is a legendary and nostalgic place. In connection with Taliharja, the entire center is booked. Accommodation booking is primarily for participants, but also for family members, and is done through the registration form.

NB! Accommodation is only sold as a full board-package from Friday evening to Sunday noon, which also includes up to six meals! The food is homemade and delicious!
There are different kinds of accommodation packages
1) spartan camp rooms with bunk beds CHEAP - 65 euros/person
2) more private and smaller rooms - AVERAGE - 75 euros/person
Those who book accommodation will receive a link to the table through which you can reserve a specific room! When registering just choose how many places you need. Then after you receive confirmation you can reserv a room and bed.